We often wonder how to style the different shades of brown acrylic nails perfectly. If you have the right idea, brown nails could be your ideal nail style this year. Brown is an excellent nail color with fabulous nails like nail coffins, almond-shaped, and sharp nails. This is where imagination and knowledge of the most beautiful different shades of brown acrylic nails designs are required.
 I've seen natural nails, acrylic, and gel nails create unique designs in different shades of brown on nails. Acrylic nails, specifically brown ones, appear stunning in significant events. In the summer months, you could be invited to a fun event that requires a stunning nail design. A few gold, brown tip nails, and gold nails can be helpful for these occasions. You'll have fun with your nails, whether they're long or shorter nails.
You may also like to see this article: You Should Try These Types of Manicures
What are Acrylic Nails?
Acrylic nails are fake nails made from a mix of monomer powder and acrylic liquid, which hardens after exposure to the air. The artificial enhancements are positioned over the natural nail layers and allow you to get solid and longer-lasting nails that come in various lengths, shapes, and sizes.
 If you're looking for nails that stand out, such as Stiletto nails and coffin nails, to primary, wearable alternatives like the oval nail and round nails, You can create these using acrylics. Another advantage to acrylics is they can lend themselves well to different nail designs. You can explore, have fun and express your creativity. The application process is straightforward and shouldn't cause any discomfort.
Different shades of brown acrylic nails aren't just trendy; they are an excellent way to transition between winter and summer shades since they're neutral and striking simultaneously. If you're looking to experiment with something new without being too crazy and looking for a neutral color, brown acrylics could be the next nail color!
You can easily get caught in the latest fashions in clothing, But don't forget to think about the latest techniques and beauty products that are coming to the market too. To tie your ensembles together, you must always get your nails done. There's a reason people call it polish in the end; having clean nails can enhance your style!
It's been a while since brown was widespread; however, it's coming back in force this autumn. It's the perfect time to embrace the idea of having your nails covered in luxurious brown polish.
You may have never worn the brown nail look before, and you might be thinking about what kind of adorable brown nails are available to you. Don't worry about it. There are plenty of cute brown nail designs to pick from!
I looked up the latest styles and then broke them into categories like short nails, Acrylic nails, autumn nails, and ideas for design and pattern. This will make preparing your manicure easy.
The different shades of brown acrylic nails can give unique designs for engagement parties and wedding ceremonies. However, they are also essential to make you look stunning at home. We must be inspired to look beautiful wherever we go.
Also, read this article: Baby Blue Acrylic Nails with Butterflies You Should Copy
The Best Different Shades of Brown Acrylic Nails you'll Love To Recreate!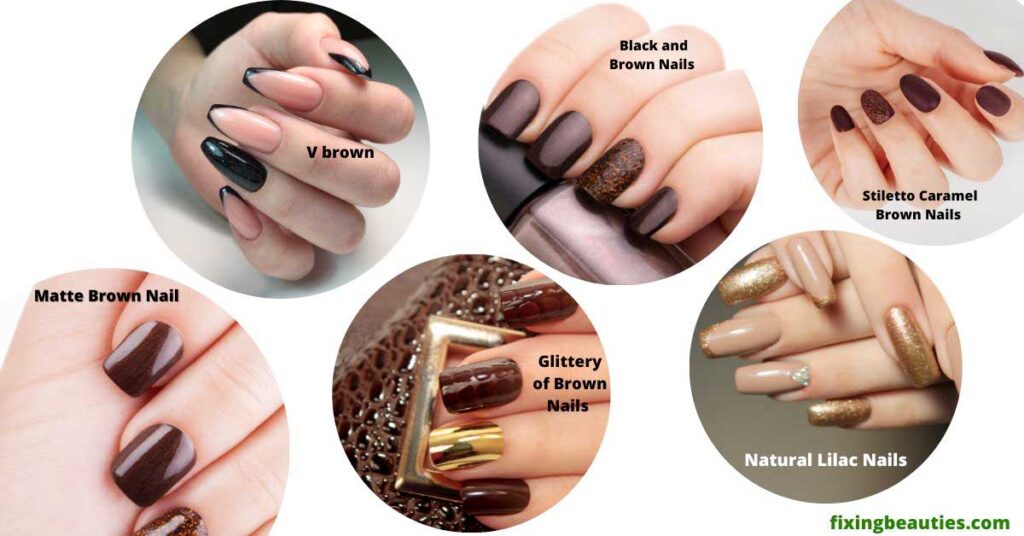 Also read this article: How Long Does a Mani Pedi Take?
Matte Brown Nail Polish with an Accent Of Marble
Today, we present a fresh nail art design ideal for a stylish and straightforward fall defense. It's known as Matte Brown Nails with a marble accent. It's a classic style, but with various colors of different shades of brown acrylic nails with a matte finish. It's a modern version of an old technique that's perfect to wear as nails for winter or maybe nail polishes for fall.
French tip nails with a stylish V brown design
Have you ever experienced those times when you go to class or at your friend's house party and discover ugly fingernails and toenails that cause you to want to hide? Do not worry because this nail style is the best choice for you. Try these dark brown V French tips nails because they are straightforward to create.
Wild Black and Brown acrylic nails Nails Design
Have you ever thought about making your nails appear like fierce animals? It's not about cute nail art, like the adorable animals you can see on your nails. But instead painting them in black and brown. You can add a fierce animal print that makes it appear classy and unique, one of a kind.
Glittery Brown Nails Different Shades Design
Do you love wearing the most vibrant nail polishes but find it challenging to keep your nails always messy? Are you looking for a simple, reliable nail polish that matches your favorite outfits without making your nails look too sexy? If the answer is yes, it is worth checking out this easy but stunning design.
Heart Shapes and French Brown Acrylic Nails
Naturally, the different French hues of dark brown acrylic nails brown shades are sure to attract the attention of everyone. Additionally, the heart-shaped brown patterns in the nail accents are gorgeous. This adorable nail art style is worth a try.
Stiletto Caramel Brown Nails Design
If you're sick of the same different shades of brown acrylic nails, consider an entirely new color: caramel! This shade is perfect for the skin tone's yellow undertones and is versatile! Beauty lovers across Instagram have been posting about the caramel nail color, and you should too. The greatest part? It is possible to wear it throughout the year, mainly when you include leopard prints.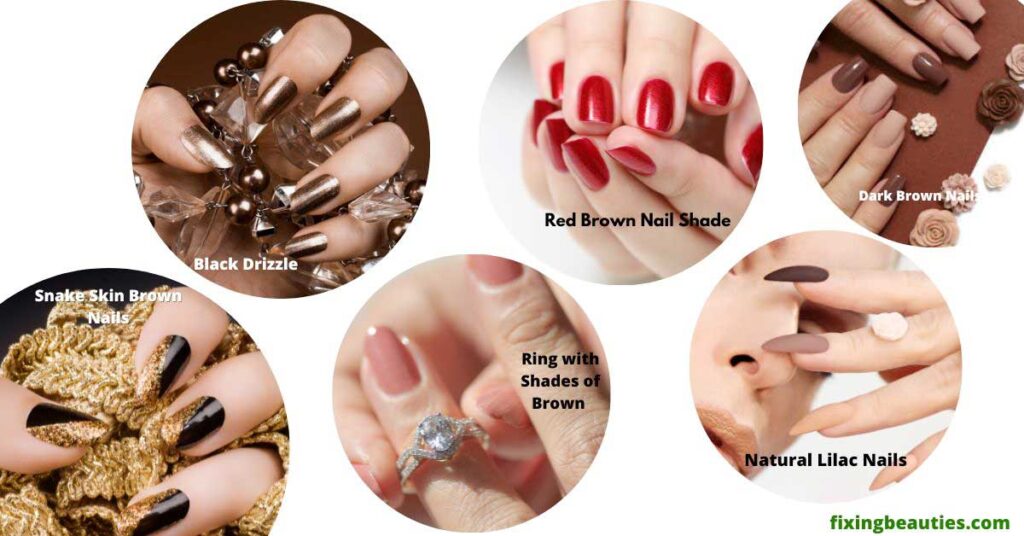 Snake Skin Brown Nails
Brown and black create a subtle design that can be worn together. To develop short almond mocha brown acrylic nails, combine light brown and black using a snakeskin design. It's eye-catching!
You may also like to read this article: Trendy Sage Green Nail Polish Ideas
Chocolate Brown with Black Drizzle
Long nails like this appear like chocolates! The beige and light brown nails are covered in black and adorned with a heart of black in the middle.
Beautifying Ring with Shades of Brown Acrylic Nails
Sometimes, a simple ring can make a difference to the look of your nails. Paint your nails with a brown shade acrylic nails and draw golden designs on the nails. Calls on your ring finger will enhance the creation of the brown nail for nails with shorter lengths.
Pink Accent Nail
Different shade of brown nails look amazing with the pink pin between them. The design is simple but delicate. Paint the nails all with a brown color, keeping one nail pink. Next, draw a brown flower design over the pink base nail to create nail designs in brown.
Dark Brown Nails
If it's deep brown nail color, you can think that it is a perfect match for an edgy and bold personality who would like to make a statement against the crowd. But that's not all the time. The coffin's brown nails indeed express gratitude for your possessions. It's unnecessary to be all bright and neon to let the world know that you're in your blissful place and genuinely grateful for everything you own.
When it comes to experimenting with using dark different shades of brown acrylic nails, You can experiment with solid shades or even go through the transition from light to dark. Make use of your imagination and forget about worrying about whether the result will match your style. It's almost impossible.
Chocolate Brown Nails
Chocolate brown acrylic nails look so delicious and warm; it's like they're a part of a fairytale that can be integrated into your daily routine. However, when you think about the emotional impact of the color itself, it is essential to know that even the most adorable brown nails will bind you to the real world.
There's no space for imagination with regards to the brown hue. If it's a positive or bad thing, you'll be the judge of this. A tip to think about regarding chocolate nails is that they are the only design you should avoid. It is a lovely shade to mix when mixed with any other color.
Red Brown Nail Shade
It's no fact that there exist many hues of the brown color of nails that you can test. Certain shades are very similar to other classic shades, like black or white. The deep and rich hue of red-brown is sure to induce philosophical thoughts.
If you're an extremely focused and goal-oriented person who doesn't like sitting still, The shade is the one for you. It is possible to skip the adorable different shades of brown acrylic nails heart nails and opt for the red-brown solid coat. Remember that this color doesn't mean perfection; not. It is essential to be aware of this so that you won't be misinformed and then force one.
Brown Nails Mix Different Colors
Even the coffin brown acrylic nails don't look like a big surprise. The calming tone can frighten those seeking new emotions and experiences. However, there's an easy method that overcomes that negative impression.
It's as simple as blending brown with other colors, and the new palette will be displayed before you. Certain people prefer to change the original hue and instead match brown with oranges, reds, and blacks. But, it would help if you considered how appealing and slightly rebellious brown looks with greens and blues. It is possible to combine the uncombinable and create your unique masterpiece.
Also, read this article related to nails: Gangster Instagram Baddie Nails Ideas to Try Today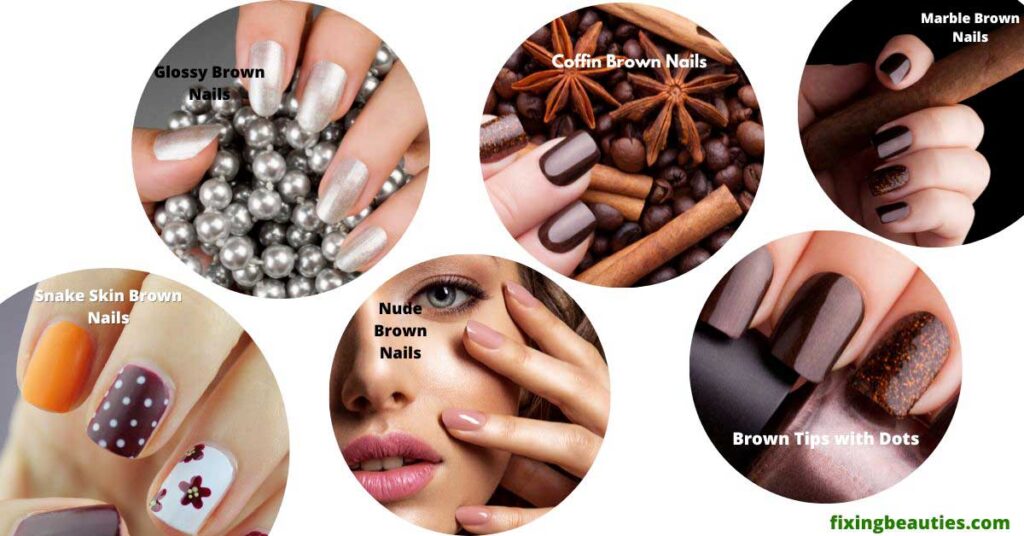 Glossy Brown Nails
If you're looking for a basic, elegant nail design this autumn. A glossy brown is highly luxurious. Find your preferred brown nail polish to apply to your nails. You can also purchase these nails with a press-on that will give you the brown nail look you're looking for if you're a shakey nail painter.
Brown Cow Nails
The cow print design is popular in beauty and fashion and is the perfect style for applying dark brown nail polish to your nails. You can paint the cow design across your nails or blend it with different techniques such as stripes and checkers, as illustrated on these brown nail press-one above.
Brown Checkered Nails
Checker print is also increasing in popularity and has recently been found on many clothes. Purchase these trendy checker prints in white and different shades of brown acrylic nails polish to achieve this look.
Nude Brown Nails
Nails that aren't colored aren't restricted to pink shades only. A striking array of lighter brown pins has the idea of neutral brown acrylic nails. Whether it's an accent nail, a French edge, or professionally executed manicures in marble, the connection with the brown autumn nails runs through the entire spectrum.
Are we allowed to say that in a variety of Western cultures, it is believed that brown is the color of stability and health? So, if you're looking to create an impression that lasts for a long time, one of these stunning nail designs is available for your ideas.
Brown Nail Ideas That Include Animal Prints
If you're tired of your brown shades nails, you shouldn't end your journey by putting the colors just right there. We recommend adding the coffin of brown nails with the animals to your go-to list. Designs for brown acrylic nails that incorporate the print are more subtle than other shades paired with the pattern.
While it might seem an excellent method to connect with nature, be aware that, by Feng Shui, brown tints are intense and vibrate with energy. This means you'll be able to pay tribute to Mother Nature in double when you choose this method.
Also read this article: How to Shape Natural Nail Designs Short?
Brown Nail Designs with Glitter
It's been reported that brown nail polishes give off neutral tones when required. However, there's rarely one aspect to any color. This is why you seek an enthralling, precise coffin brown acrylic nail design. All you have to do is add some glitter to the picture. There is no need to be over the top with glitters. A simple mark should suffice; however, the sky is the limit.
Furthermore, in America, in the United States, brown is one of the top colors for marketing. It symbolizes trust and confidence. Therefore, if you're planning to request an appointment, you might be tempted to play around with your different shades of brown nail polish tips and nails.
Coffin Brown Nails With Spark
The various hues of dark brown acrylic nails since they look fantastic in any size and shape. If you're seeking autumn nail ideas, these are an excellent choice.
Short Nails With Floral
What about a flower or floral nail designs? Brown nails look as beautiful with a floral design.
Nude Color Mix like This
Save your brown nail polish with white mocha brown acrylic nails. They look gorgeous, and it is possible to pull them off with an even hand. Look at how beautiful these nails look and the perfect balance between different shades of brown acrylic nails and gray.
Caramel Brown nails
People who prefer to look a little elegant would be delighted by an edgy nail color. The lighter brown nails complement the warm golden tones of the complexion perfectly. The skin appears more golden and brown because of this. Who wouldn't want this?
However, a caramel tone may quickly appear unnatural on skin with a sallow complexion because the undertones aren't matched well. If you're still interested in giving it a try, do it! It is important you love it. French tip nails with caramel-brown hues work great with all skin tones with yellow tones.
Brown Tips with Dots
The look different shades of brown nail designs is simple and clean, and it's also adorable. It's the perfect everyday autumn outfit since it's got just enough interest without being overly trendy.
Abstract Brown Nails
This is a simple design that is ideal for autumn. We love abstract nails; however, there are many options for using abstract methods.
Also, read this article: Gel Nails: Seriously Want to Remove?
Chocolate Brown with Gold Details
Here's another option to include brown nails in the autumnal outfit: gold accents! Chocolate brown nails are so adorable, with little gold dots on top, which make them ideal for autumn since it's the perfect time to put on your gold jewelry.
Plaid Brown Nails
I'm into plaid nails, but I enjoy the different shades of brown acrylic nails plaid look. They are a little challenging to create. However, they're worth the effort!
Marble Brown Nails
You might like the marble-colored brown nail if you prefer a sleek and elegant design.
Frequently Asked Questions
Is White Nail Polishes Lovely On Skin Different Shades of Brown Acrylic Nails?
Nails with white designs look stunningly elegant in dark complexions. Give your nails some pizzazz using a sleek, silver-colored cut-out style like this.
Which Is More Effective, Acrylic Nails Or Gel Nails?
As we have mentioned earlier, gel nails are better than acrylic nails. There is less harm to the natural nail or the nail bed. Gel nails appear more natural and more flexible than acrylic nails. They are also less rigid nails, meaning they are less likely to break if you accidentally strike them with something!
Do Acrylics Damage Your Nails?
Shortly, fake nails may cause your nails to be dry, fragile, and dry. However, some like the appearance of artificial nails. If you're among them, this advice from dermatologists will help lessen the damage. Soak-off gel nails over acrylic nails.
Acrylic nails aren't a once-and-done type of manicure nails do grow naturally and require maintenance. Newell recommends having fillings every week not just to ensure they're good but also to ensure that your nail's health is maintained.
How Long Will Acrylics Take The First Time?
For an experienced artist, it could take about an hour to apply. For a less skilled artist, it could be 1.5 to 2 hours.
Do acrylic Cause Harm to the Body?
This sensation of tightening may cause discomfort and pain to the nail bed. It is common for those who get acrylic treatments for the first time or those who don't visit for treatment with acrylic. The pain should be gone in 24 hours unless the nail is damaged.
Which Is More Durable, Acrylic Or Gel?
Acrylic nails generally last for a week or more if you properly take good care of them. Gel nails may last for as long as 14 days without chipping. If you have nails that are long or extensions, be thinking about longevity. Long gel nails offer plenty of flexibility and strength.
What Is The Best Kind Of Nail To Purchase?
Acrylic nails appear very natural and help protect your pin from injury. You can choose to leave with gorgeous nails that last for a long time, so the best method to determine which one is to talk with your nail technician regarding what you'd like to achieve.  
I hope you enjoyed this article's about different shades of brown acrylic nails for more information about nails you can visit fixing beauties home page.
Also read this article: How to Get Nail Glue Off your Nails?