Types of braids can be such a versatile hairstyles and will never be out of fashion. There's a hairstyle suitable for any occasion or person, so long as you're patient and operate systematically, they'll appear stunning. Beautiful braids are among our most loved styles for the year. They're extremely flexible styles available! Take a look. Types of braids are a great option for formal or casual wear. You can create cute braids as wide or thin as you'd like.
Make cute braids for all or just a part of the hair. You can go with simple beautiful braids or an elaborate braid. You can also incorporate some of your most loved accessories to add some style! I've observed braids that even though there are many different types of braids on the market, we only know one or two basic types.
Also, read this article: Lemonade Braids With Heart On The Side Zig Zag
Why be constrained with numerous options for braids?
Braiding can be intimidating. However, it's not as difficult as it appears. Making new cute braids are similar to learning a new pattern. Once you have memorized the design, you will find your fingers appear to end the braid automatically.
With Practice, Types of Braids Aren't That Hard
Consider how fast you could race through an easy 3-strand braid. You'll soon be able to attain the same level of proficiency with more beautiful braids as well – it's just a matter of time and practice. There are going to be many types of braids to experiment with after you've seen these amazing kinds of braids. We have found some incredible examples that you'll love, from casual and simple to gorgeously intricate.
Milkmaid Braids:
Beautiful, elegant, and sweet milkmaid braids are the perfect hairstyle If that's the look you're trying to convey. While this style appears like you've spent a long time perfecting, it's quite easy to make and can be done in less than five minutes. Milkmaid's beautiful braids are particularly sought-after as wedding hairstyles because they make everyone who wears them look an absolute princess.
What do You need?
Hairbrush
Rattail comb
Hair elastics
Bobby pins
For hair care use Shea Butter for Hair to make hair healthy and neat.
How To Style?
Draw out all knots and tangles in your hair.
At the tail of the rat tail comb, divide your hair across the middle.
Continue to separate your hair until you reach the neck's nape. You can then split your hair into two equal parts.
Make a basic 3-strand braid, place the right side of the braid and tie it up using an elastic.
Repeat step 4 using the hairline to the left.
Tuck them in and loosen both braids so that they appear larger and add depth.
Pick a few strands of hair from the front of your face to frame the look.
Make sure you pick the correct braid and put it over the top of your head. Pin the end of it where it is on the opposite side of your head.
Put bobby pins on the length of the braid to hold it onto your head.
Continue steps 8, 9, and 10 using your left braid. Make sure that you wrap its ends underneath the right braid to conceal it from view before securing it on your head.
Also read this article: Cute Gym Hairstyles, Curious to know about it?
Triangle Braids:
Triangle braids are cut into triangular forms. They're like box braids and result in an elegant design that is practical and appealing. They will hold in moisture, aid in preventing breakage, and may aid in growing hair naturally. It is also possible to style using a variety of hair textures in various lengths.
They tend to be more striking than the other styles of braided hair. This is perfect for women who want to be different from the rest. To further make an impact, try various hair accessories and coloring methods to give your flair to this gorgeous style. You should have taken a hair care routine to look gorgeous.
Braids that have Curls:
If you're looking for types.of braids with an appealing and dense look, then choose braids that have Curly Mullet ends. They can make curly extensions or arrange so that the braid's curly ends; the decision is yours. There are numerous designs, and this one can give the perfect feminine and soft look. The great thing about cute braids is they're protected, allowing you to hold in moisture and aid in hair's natural growth.
Braided Hairstyles for Kids:
There are many fashionable as well as practical braided hairstyles that kids can enjoy. Types of braids can be a stylish and protective style that can aid in hair growth and dramatically cut down on time for styling, which is perfect for a young one who is always on the go and always on the move.
There are many attractive options, such as braids that are top-of-the-line or cornrows that have beads. The goal is to select something casual and comfortable; however, you can allow your children to make the hair more unique by using bright shades and intriguing hair accessories.
Halo Braid:
A more sophisticated variation of the traditional crown braid, the halo braid, is placed more atop your head. For the look, you need to sweep your hair to one side, then start Dutch hair from right to left, beginning at the temple but about an inch behind. Beginning there will make the halo appear more sculpted and less like a crown braid.
The braid will start to wrap around your head when you add sections. After you've used up all the hair you can braid, you can twist the remaining hairpieces and then tuck them away. A halo braid can be the perfect hairstyle for formal occasions, especially in summer, and is a fantastic option to showcase your striking earrings, too.
Chignon:
Chignon refers to a fancy method of referring to buns in French-inspired by the expression. This chignon fashion is a variant of the bun traditional that is a little looser. Because of its versatility, it can be styled up or down. It is typically seen often with A-listers and celebrities as it's quite a fashion for special occasions.
Dutch Braid:
Dutch braids are underhand braids which means that your hair will be noticeable from the rest of your head rather than lie flat. This is a standard three-strand method and, when you're experienced in making the typical plait and braid, the Dutch braid will follow the same design. Since both plaits require gradually adding sections of hair, this Dutch braid is sometimes referred to as the reverse French braid'. It's a fantastic option to take a traditional types of plait style to another level or make double braids or crown braids for formal events.
Also, read this article: Hairstyles for Middle School Girls
French Braid:
The timeless and feminine French braid is a favorite in types of braids for reasons. You can put on this versatile braid for casual meals at the gym or work. You can keep it smooth to create an edgier and professional appearance or take some face-framing parts out to give a soft and romantic look. It is also possible to pair it with beautiful braids that are a braided fishtail or half-up/half-down hairstyle. French braids also make a favorite bridal hairstyle. Whatever event you are celebrating, the French braid is an excellent option.
Classic 3-Strand Braid:
This technique is ideal for just beginning and is easy enough for children of all ages to do. This is accomplished by dividing all of the hair you want into three segments. You then alternate the sections over the other until you've completed the hair. Similar to most braids, the hair is tied to the ends.
Single Braids:
This is the process where all your hair is braided to form a single braid. People with long soft hair generally use this cute braids style. The braid is usually hung across the shoulders or along the back. But, some single braids may also be placed tied around the head to create a milkmaid appearance.
Criss-Cross Goddess cute Braids:
The heavy cornrow braids, also often referred to as goddess braids, are great for those days you need to let your hair down or if you're planning to go to the beach and want to not stress about how to style your hair each morning. The good thing about braids of this dimension is that they don't require a lot of time to make and are easy to pull out.
Half-Updos with long, free-hanging Braids:
Hairstyles with long braids Ghana weave hairstyles are a common choice of African American women during the summertime. Make sure your hair is fresh by wearing hairstyles that have a great height at the top. This look can be done quickly to create a feminine look that can be worn throughout your day might take you.
Black Romantic Hair:
If you've recently had braids, you may like to keep them for a while they're expensive! In the event of a formal occasion, Instead of taking off your braids, leave them in and test. One of the many fancy twist hairstyles available. If you treat your hair as straight and straight, wrap your braided locks in the classic style.
Long and Loose beautiful Braids:
Large twists braids are great for hair that is looking to be highlighted. Choose a braid that you can wear for a prolonged duration – it's less expensive and is easier to work with your natural hair underneath.
Also read this article: Can You Dye Wet Hair?
Curly Twist Braids:
The majority of available twists are straight and long, but it doesn't necessarily have to be this way. You can consider incorporating playful curls to your hairstyle and add a few hairsprays of blonde. The final result is as individual as you are.
High Twisted Bun:
In the end, if you have to pull your hair away from your face during a sunny summer day or for a morning workout, braid your braids into long sections, and then tie the cute braids into a bun placed high enough to stay free of the neck.
Large Twists adorned:
Long, dark hair has the benefit of showcasing hair accessories attractively. Consider jewels for your hair or an incredibly colored scarf. From barrette bling to flowers Whatever you're desire for, it's guaranteed to be beautiful.
Compact Braided Bun:
This stunning look is made by twist-in extensions that provide attractive colors, a stunning texture, and various styling options when the natural hair is growing out. This particular style is the high braided bun wrapped tightly around ponytails.
Waterfall Braids:
We've got the braiding basics. Now let's dive into the fun things to do. The braid that falls is an ideal illustration of a braid style that has gained popularity over the last few years. It was not known how to braid a waterfall before 2012. However, now you'll see it all over the internet. It's gorgeous and ideal for formal occasions. I love seeing braids like this used for bridal hairstyles. BecomeGorgeouscom will demonstrate how easy it is.
4-Strand Braids:
The braids can become super-creative. Once you start adding more braids and spacing some braids, they may take on a different appearance. This stunning braid with four strands is a great illustration of the power of imagination.
5-Strand Braids:
Similar to the braid of four, The 5-strand braid is an entirely new appearance. The possibilities are limitless.
Braided Ponytail:
If you're searching for an innovative method of styling hair, then the easiest alternative is to go for the high ponytail. This style is popular because it draws attention upwards, which makes your face appear longer. It's also versatile and works equally well in the workplace, school, and gym, as well as for the evening with your significant other. For a braided ponytail to appear flawlessly polished, secure it with a clear, snag-free elastic, and wrap the braids to secure it. Then, add hair accessories to give it some individuality.
Crochet Braids:
One of the most simple and most effective ways to achieve long braids is to use a crochet. Crochet technique. Like a weave, crochet is the process of braiding your hair in loose cornrows. This pattern of cornrows forms the basis for the crochet braids.
The hair extensions are tied through and secured with crochet hooks and then braided in the hairstyle of your preference. It is also possible to have braids already secured by a crochet hook, like braids made of boxes that dramatically reduce the time required to braid your hair. It's a great option for those who do not have time to be in the salon.
Fishtail Braid:
A festival staple, the Fishtail braid adds a touch of boho to any outfit. It's among the easiest braids to make because it doesn't require the creation of a complicated pattern. But you'll have to cut your hair into smaller sections of about one-quarter inch wide and then maintain the braid in place to prevent it from falling apart. You can start the fishtail anywhere on your head. It is the French braid or Dutch braiding technique. This implies that it can be used on short hair as well as long hair. Double fishtails are an ideal way to sport this style.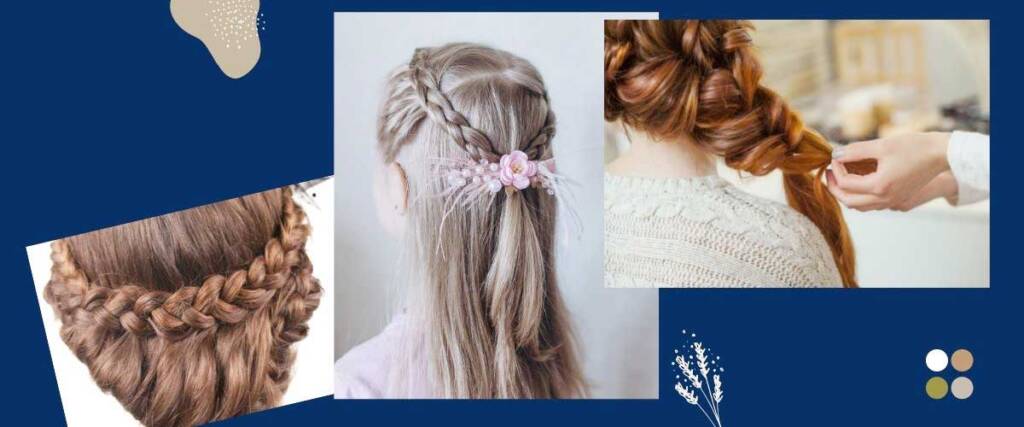 Braided Buns:
Braided buns are a favorite of festivals that has ' 90s vibes. There is a myriad of choices for this fashionable style. If you want to be trendy, make sure to combine buns with double braids. Separate your hair along the middle of your hair, and then begin to create two Dutch braids around in the nape area of your neck. Start working your way to the top of your head.
Finally, lock the hair so that it's in two ponytails. Make double Dutch braids starting from in front. You can then braid backward to join with the braids on the opposite side. Make sure the hair is secured in a ponytail style, then twist all remaining hair to create two buns. You'll have hairstyles that stand above the rest.
Also read this article: How to Strengthen Hair?
Fulani Braids:
Fulani braids form the distinctive braids worn by the Fula people of West Africa. The braiding style involves plaits of medium to thin in rows across both sides, leaving a central twist on the crown. The braids are then decorated with classic accessories such as rings and beads; however, hair cuffs are an elegant option. The braids and accessories are placed strategically to maximize the effect out of the appearance. Fulani braids can be paired with other styles to create a bold statement. Try combing Fulani braids on the front and then putting your hair in the form of a crown braid for an original hairstyle.
Crown Braid:
The crown braid has been a more and more popular hairstyle for special occasions, such as proms and weddings. The reason is that crown cute braids let out your princess in you! This style requires hair with some texture and grit. It's also great if you aren't washing your hair and need to hide the effects of a bad hair day. The easiest way to create crown braids is to braid your hair in two Dutch or French braid, pull each one, and pin it on the opposite side to create the crown. You'll look and feel like a king in a matter of minutes.
Snake Braid:
If you can make a traditional three-strand plait, you could quickly transform it into a snake. This simple hairstyle is typically employed to give the half-up and half-down appearance a fresh twist. To make the snake braid:
Begin plaiting a small piece of hair around your temple. You can braid it back until you've run out of hair.
Take one of three strands, and pull the remaining two up.
Take the braid gently out a bit more until the snake pattern is visible.
copy the same process on the opposite side, and then join the two braids into the form of a ponytail on the side of your head, with a piece of hair to cover the joining.
It's one of the easiest braided hairstyles and remains stunning.
Side Braids:
Side braids are a simple way to add dimension to a false undercut or a side-swept wavy style.. The braids begin at the hairline and then move toward the top of the head rather than straight back. They are unique and distinctive in their design. The extensions to the braids while leaving the rest of the hair untied create side braids look with an on-trend asymmetrical angle. It's an eye-catching contrast, and it gives a modern elegant, and chic style that is flattering to most face forms.
Half-Up Half-Down Braids:
If you are a fan of the look of your long hair and want to braid it half-up, half-down style is the perfect blend of both styles. One new approach can be to French braid the center part of your hair halfway and then braid it to create the shape of a messy braid. This adds a cool aspect to the traditional hairstyle while still maintaining its beachy look. It is also possible to braid other parts of the hair to the upward section. To achieve the perfect style, ensure you leave enough hair untidy, to ensure that the look doesn't appear incomplete.
Also, read this article: Cool Hair Colors for Guys
Braided Updo:
An encased braided updo is a neat and polished style that has an old-fashioned appeal. If you're a professional braider, you can try the braid that is a serpentine French braid that flows from one side of your hair to the opposite. For those new to braiding, a simple alternative is to make an inverse Dutch or French braid and then weave the two plaits together to make a braided bun. Alternately, you can change the braids and pin them to create a different look.
Lemonade Braids:
Lemonade braids were famousized through Beyonce with her debut album Lemonade. This isn't the typical braid, straight back and forth, but rather cornrows that run between left and right. They're extremely versatile and can be worn with other cornrow styles or with accessories to spice it up.
Build Your Braiding Skills:
Once you've mastered braiding techniques, you can proceed to master another one that grabs your attention. You'll get better and good each time you work on it. After that, you can begin to mix all the braids that you've learned to create fresh and unique designs.
Once you're comfortable with the braiding method, you can also play around with the directionality of your braids. You can also experiment with styling them and pin them in various ways. Your experience level will determine the length to which your braids can take you, and some experiences require special training and preparation.
No matter if you're new at braiding, seeking to master more sophisticated techniques, or going in the direction of hair professionals, braiding is a fantastic way to transform your look for a short time. Braiding gives you a wide range of creativity and creative possibilities when it comes to styling your hair of any kind. The art of braiding is a and, like every art form, it's an expression. It is up to you to decide what you want to say about yourself.
Twisted rope braids:
Sometimes braiding makes our hair want to curl on the floor and throw the full-on tantrum of five-year-olds. When it happens (especially when you're on the third day of your hair and have to accomplish things), it's possible to always, forever, make sure to do rope braids. It's as simple to do and looks much better than the boring ponytail.
Begin by making an up-do and secure. Separate the hair into two sections. Then begin twisting each section to the outside. In other words, both sections will be twisting in the direction that is away from one another. When both twists tighten, begin to twist the two halves without letting either side relax or break. Continue this process until you reach the ponytail and secure it with an elastic.
Accent Braids:
They are small braids woven into your hair to highlight or enhance your hairstyle. Many hairdressers weave in beautiful garlands or other accessories to spice it up slightly. This is why they are beautiful, whatever the occasion.
Goddess Braids:
In essence, they are thicker cornrows. These braids are longer than the regular braid and closer to your scalp. They are often used to protect hairstyles for BIPOC women; however, many other women may also use them to create a look. Goddess beautiful braids can be styled in numerous ways. They can accompany you from your office to special events or even out to exercise during the day.
Four Strand Brand:
If you're in search of a new braid to master, consider the more difficult four-strand braid. We suggest starting with a braided side look which makes it simpler to understand the work you're doing, or even find a braid-loving companion to try it out with.
Also, read this article: How to Brighten Dull Hair?
Crochet Braids:
Crochet braided designs are made by braiding hair into cornrows and connecting extensions to them using the latch hook method. The result is a protective braided style. The basic braids are hidden behind the attached hair, providing endless user possibilities to play with various lengths, textures, and shades.
Zig Zag Braid hairstyle:
Utilizing the dutch braiding method, the zig-zag braid is woven back and back and forth across hair, creating a beautiful and romantic look that's ideal for weddings.
Lattice Braid:
Also called a basketweave braid, the intricate braid weaves hair strands together to form an intricate lattice with a head covering and showcases dimensional colors such as this cool pastel.
Bubble Fishtail Braid:
To make a fishtail braid with a bit more feel, try this one with bubbles by knotting hair in multiple places as you braid.
Frozen Braid:
If you're a lover of Elsa's style, make this side braid inspired by Elsa, the Frozen heroine!
Bow Braids Style:
If you're looking for different kinds of braids that have bow shapes, look no further than this one! Take braiding intricate to the next dimension; these bow braids can make hair accessories unnecessary!
Five Strand Braid:
If you've completed the four-strand braid, this braid with five strands is the next stage in your braiding journey!
Zipper Braid:
One of the more difficult hairstyles on our list is that the zipper braid should be attempted with damp hair and plenty of time to work on it!
Cobra Braid:
The same technique of cobra stitch used to create bracelets can be applied to hair styling to create a strong knot that is intricate at the bottom of the ponytail.
Plait Braids:
Plait braids are similar to braids of class three; however, they are made with more than three strands. Five is the most common number. Again, you'll switch which strands you place over the middle strand. In the beginning, you may struggle to remember which strand needs to be the topmost; however, after a few weeks of practice, this method will become much easier.
Reverse Braids:
If you're looking for a fashionable up-do that is easy to make, think about the reverse braid. The braid is made in the same manner as braids as a French braid. It is also known as a Dutch braid.
Instead of working from your forehead towards the nape of the neck, turn your head upside down and begin working starting at the nape of your neck up to the top of your head.
After you've finished this braid, you can secure the remainder of your hair in messy buns to create a casual look or perhaps a braided bun for a more formal appearance.
Also, read this article: How to Bleach Hair?
FAQ
What's the easiest braid you can look like?
A simple three-plait braid is typically the easiest braid to create. It's easy, fast, and can be done by yourself with no assistance. It's not very versatile in terms of flexibility and is only limited in this way. It doesn't have extra hair or any other accessories required to make the design stand out.
What hairstyles could I create using braids?
There are many kinds of hairstyles to select from because braids are so versatile that they are an ideal addition to any collection.
You can be creative with them, moving from half-up to slicing styles, and tie them up in ponytails or pigtails braids that are upside down or upside-down. Crown, waterfall, and fishtail cute braids are ideal for versatility because braids can be styled in numerous ways.
How many types of braids are there?
Regular braids, fishtail braids, French braids, and Dutch braids are indeed the four different varieties of braids.
Final Thoughts:
With so many braiding options available, you don't have a reason to choose your standard ponytail each day. Most braids can be mastered at home with a little practice, the appropriate styling tools, and a big mirror to see the inside of your head. You may want to practice with a partner or two to get the best techniques before making them available to you.
Hello and welcome to fixingbeauties.com, a website dedicated to beauty and its environment! The blog's purpose is to assist you to figure out what you need in your beauty.
Also, see this article; How long Should you Wait to Bleach your Hair Again?