EYELASH EXTENSIONS
Types of eyelash extensions are made of mink, silk, or lightweight synthetic lashes placed directly on natural lashes. The extensions are applied with an adhesive that is semi-permanent by professional lash artists. Furthermore, extensions are typically applied on the top of the lash line and they're applied by "clusters" or "fans" or in a single.
If you are considering lash extensions especially when it's the first time you've done it, you may be concerned about having unwanted results or reactions to the product. This is the reason it's important to take into consideration all aspects prior to using eyelash extensions in order to achieve your desired appearance.
If you're looking to apply the best types of eyelash treatments for yourself or like to offer treatment for lash extensions to your clients, our guide will guide you through the various types of eyelash extensions.
How do you choose the right eyelash extensions?
There are many people who view eyelash extensions types as a miracle product they've been searching for. However, not all people know the things to consider when selecting the right one. This is due to the fact that there are numerous possibilities to choose from, and it can be overwhelming when you don't know which one you'd like to begin with. To help you here are some points that you need to know.
Eyelash Extension Length:
In general, extensions shorter than 5-9mm is typically used to create inner corners or extensions under the eye, and 9-13mm extensions are utilized in most of them. Some artists mix lengths that are longer than 14mm or longer lashes in order to create a Hybrid volumizing effect.
Here are a few Types of Eyelash Extensions:
Lash artists employ three kinds of eyelash extension types materials for the best eyelash extensions including silk, mink, and synthetic. Some studios also offer "faux mink" extensions, which are technically synthetic extensions that look like mink extensions. The majority of lash studios have a preference in the kind of lash extensions they choose to use, but they won't ever ask you to confirm to indicate if you'd like to use them. 
1. Classic Eyelash Extension:
Classic eyelash extention types are the best method to improve natural lashes. The classic method is the lash of one individual is applied to a natural lash to form a set of longer and thicker lashes. Based on the style you want there is a range of lengths, curls, and thicknesses that you can choose from.
How long do classic Eyelash Extensions last?
Classic lashes make great everyday lashes. They are simple to put mascara on every day. To keep your lashes looking fresh and to avoid them fading we suggest getting the lashes filled every 2 to 3 weeks. How often you need to fill them is contingent on the natural cycle of growth that varies from person to individual. Extensions last for up to six weeks for natural hair lashes.
Pro tips for technicians applying for classic Eyelash Extension
Try the most models you are able to before charging the full price
Don't rush the process.
Always use proper tools and top quality adhesives
2. Eyelash Extension Curl Type
There are many types lash extensions including C-curl, B-curl D-curl, Plus curl.
The B-curl is by far the most natural-looking curl. It's ideal when you have straight lashes and needs some lifting.
The C-curl is suitable for almost every type of eye and is the most sought-after curly. If you have naturally thin lashes, however, you would like them to appear bigger and fuller, opt for the C-curl.
D-curl is the perfect choice for when you are looking to get an edgy appearance. Additionally, it is recommended to use it for those who have naturally curly lashes as it looks like the shape of a semicircle.
In the end, the L and the L+ curls on a flat surface and raise upwards. Choose this curl for those with only one eyelid or hooded eyes. straight lashes with a downward angle.
We at Lash Lovers, keep B Curls C, D, and B on hand at all times. The curls that we have seen on CCs are too big for many eye shapes, and there's only a small demand for L lashes, which is why we don't carry either of them.
Also read this article: How to Clean Eyelash Extensions?
3. The Fake (Faux) Mink Eyelash Extension:
Numerous professionals are now using what is known as faux mink types eyelash extensions. It is made of synthetic material, which is known for its softness and can be used to replace mink fur. This leaves your lashes appearing natural.
There's no need to choose to use real mink fur due to two reasons. One, a lot of producers do not truly adhere to the cruelty-free guidelines, and we aren't sure how much it's adhered to. The faux mink lashes are said to have a very good quality, which means that they will appear gorgeous and natural on yours.
Pros and Cons of Mink Eyelash Extensions:
They are extremely thin
They appear real and feel like your personal
Made from synthesized material (it's vegan, cruelty-free, and vegan)
They are resistant, and can endure for much longer (19 or 20 to 21 days, on average)
Ideal for those with lashes that are thin.
They appear more voluminous than genuine mink eyelash extensions.
Certain salons may offer a variety of forms and styles you can select from
Make use of it if you are looking for a more dramatic style
Cons:
The saloon you choose to use will determine whether they could be shorter than other eyelash extensions, particularly after they have been wet. This is why you may need to use curlers.
4. Silk eyelash extensions:
In contrast to faux mink eyelash types extensions, which are glossy, silk extensions are semi-matte. They can create a dramatic look as they are thicker on their extensions, and they have more space between them.
This means that you're an elegant and simple person, however, you want an edge to your eyes make use of this type of extension for your eyelashes. This kind of eyelash is also made of synthetic materials, which means you shouldn't be astonished to wear an animal lash for your eyes.
The product is a synthetic fiber that is derived from polyester which is extremely durable and looks natural. This product is soft on your eyes and will not cause irritation, so you can take pleasure in your time using it.
We know that if you go for it, people will be able to tell the extensions of lashes, however, the end result will be natural and gorgeous beauty If that's what you want!
More Information regarding Silk Eyelash Extensions:
They are, in fact, the most inexpensive kind of lash extension available in several countries.
Because they are denser and therefore, tend to be more apparent
Silk Eyelash Extensions Pros and Cons:
This is only recommended on those with thick lashes because they weigh a lot and if your eyelashes are thin, they might not provide enough support to support these lashes well.
5. Temporary Silk Eyelash Extensions:
If you'd like to test the silk types of lash extensions prior to attempting it in the saloon you can experiment with the false lashes we can apply at home to check if they look good for you.
I'm talking about the temporary lashes you wear for an event and after which you remove them the moment you get at home. If you'd like to try this, you could go for using the Wiec Beauty 3D Silk Lashes Handmade Dramatic False Eyelash Pack, and I describe why I selected this particular one.
The lashes are beautiful. They are 100% synthetic False Eyelashes that are made by hand, lightweight weight, and I'm sure they will provide this natural, harmonious look that you're seeking. If you feel them in your hands you will feel how soft and flexible they feel. They are extremely comfy to wear and easy to put on.
6. Fox Eyelash Extension:
Similar to the two previously mentioned the lashes of a fox are made from the fur of a fox. They are naturally reddish as if they are fox fur, however, they can also be found in different shades. Fox fur lashes are shiny and soft. As with sable lashes they aren't widely used that require curling.
Main Qualities of Fox Lash Extensions
Soft and reddish
Not often utilized
It requires curling and a little at-home maintenance
7. Synthetic Silk Eyelash Extensions:
Silk eyelash extensions don't manufacture from real silk they're made of synthetic products made of silk fiber. They're regarded as the best eyelash extensions mid-weight extensions and are denser than other kinds. They are best suited for people who have strong eyelashes due to the added weight. Silk lash extensions made of synthetic silk appear natural, but they are more pronounced than other types.of eyelash extensions.
What are synthetic eyelash extensions made of?
Main Qualities of Synthetic Silk Lash Extensions. More robust than the other types.
Holds a curl
Full coverage
Affordable
Dramatic
8. Mink Lash Extensions:
Mink extensions for lashes aren't always the thing they appear to be, based on their name. The majority of "mink" lashes are not really made of real mink fur! False mink lashes and real mink lashes are two kinds. There are numerous reasons why using genuine mink lashes to be an entrepreneur for lashes is not the best choice.
Where did eyelash extensions originate? The majority of fur-related products, like lashes, originate from farms that produce fur. It is from these farms that the bulk of the world's fur is sourced. The animals are housed in cages and separated from their natural habitats in fur farms, as one would expect. Minks, for instance, are semi-aquatic creatures that require water access to swim in.
Mink lashes offer the benefit of having a natural look. Professional lash technicians are able to replicate the appearance of mink using a top-quality synthetic lash, without danger of cruelty to animals or luring the client.
Mink lashes usually feature a matte or glossy appearance, but they also appear natural. Many people prefer mink mascaras due to their luxurious look. Mink-style lashes are long soft, more supple, and smoother than other kinds of best eyelash extensions for lashes.
9. Cluster eyelash extensions:
The cluster eyelash extensions are also considered in best eyelash extensions. The issue with eyelash extensions for clusters is that they're attached to multiple eyelashes in one go and the base is usually heavy due to the glue which holds them in place, which can cause tension in the follicle. Since lashes grow at different stages, the tension created by the cluster could lead to premature loss of lashes. 
This could lead to the permanent loss of hair known as Traction Alopecia when it happens repeatedly. Cluster eyelash extensions like eyelashes that are knotted in the middle (not to be mistaken for volume lashes) are put on with glue on top of one another on the eyelash line. Volume lashes or eyelash extensions are applied to a single eyelash with the precision of a military.
Cluster eyelash extensions are more akin to gluing a complete false eyelash to the eyelid because they are held together and do not shed along with your natural eyelash.
10. Hybrid Lashes:
The Hybrid technique is a combination of both lash extension types techniques for applying lashes in the form of one set of eyelashes hence the name hybrid. It gives clients and stylists the ability to create an individual and unique lash style, without the uniformity that comes with the individual as well as Russian Volume Lash.
The most common method of use of Hybrid eyelashes is to build an individual lash framework and then fill in the gaps using Russian volume eyelash extensions for a uniform, non-textured appearance with a density that is between these two types.
The best thing about the Hybrid mascara technique is its nimbleness of it. It is possible to choose 50/50 a mix of the individual as well as Russian Volume lashes, but for a more classic appearance you could apply a few more Individual lashes instead of Russian could be used, or perhaps a few extra Volume lashes rather than Individual to add some more dramatic.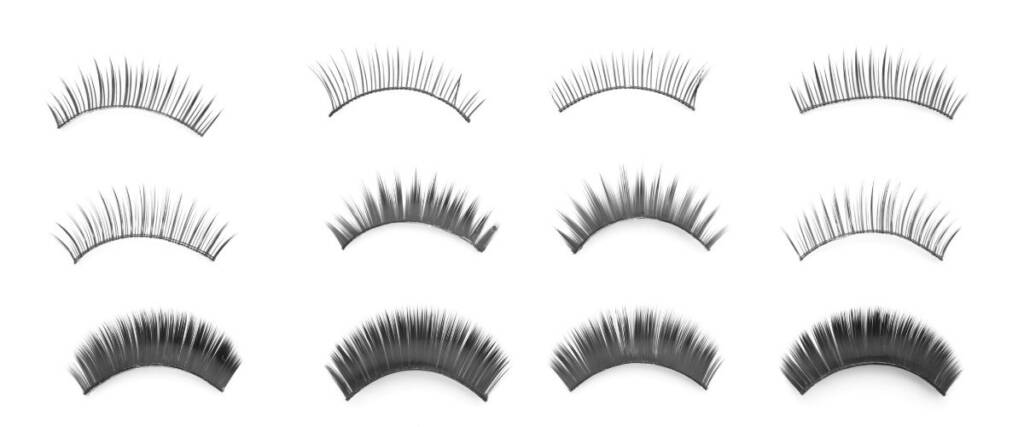 Why do they cause damage?
They're too heavy and draw all eyelashes. Using them too often could result in permanent loss of eyelashes (traction Alopecia). The natural hairs you have will not shed after the conclusion of their life cycle, and your eyes become an ideal breeding ground for infections. 
There are a lot of adhesives and in many instances, it's touching your skin and blocking the hair follicle which means that new eyelashes aren't able to grow, and you're at risk of growing hairs or styes. Eyelash extension adhesives must be kept out of the skin. It's not intended to touch it, so it should be used very delicately.
Also read: How to Get Eyelash Glue Off?
How much are Eyelash Extensions Cost?
The price of a complete pair of best types of eyelash extensions is between $100 and $350. Refill costs can range from $50 to $150 per 60-75 minutes. The main factors that determine the price are:
Your chosen lash style. Classic Style is more affordable than Volume, for instance.
The number of lashes that are used for creating certain styles e.g. the volume
The skill level of a Lash Artist
The salon that you visit for the application of your lashes e.g an experienced salon-style suite or an at-home stylist
Do your research, read reviews, and then choose extensions that fit within your budget and are worthy of the investment. Additionally, many salons offer discounts on full packages for first-time guests and Refill Plans as well as Memberships that allow you to discount refills on the basis of signing up for a set quantity of refills per month.
Advantages of Eyelash Extensions
It works: 
With the best eyelash extensions, you'll get up every morning with long beautiful, flowing, gorgeous eyelashes. The procedure is highly effective in improving the appearance of your eyes. It looks amazing on anyone.
Completely customizable: 
Your look can be as natural or striking as you'd like. simply consult with your lash specialist to determine the perfect length and curl of your extensions.
Virtually Waterproof 
Although you aren't able to be able to get them wet for your first two weeks, you are able to still shower, swim, or sweat inside your extension (although drying them is a must, and the longer you use to dry them in, the longer they'll last).
Pain-free:
The entire process is 100 percent painless for virtually everybody, from beginning to completion.
The extension is (Usually) Secure:
Dermatologists, plastic surgeons, and estheticians all agree that for the greater parts extensions are secure (although there is a risk of irritation, and infection…more about that later).
Cons of Eyelash Extensions
Irritation and infection:
You might be allergic to the glue used by your salon. The risk of irritation and infection is greater if your technician doesn't clean their equipment or wash their hands regularly. Try a small amount of glue before contacting your physician before you make any decisions about reactions to sensitivity or allergies.
Risk of Damage:
Best eyelash extensions shouldn't harm your natural lashes as long as they're correctly applied then eliminated. This is just one of the many reasons to conduct research about the salon you go to. It is also possible to damage the lashes of your eyes if you rub your eyes frequently.
Extended and continuous appointments:
Regardless of the application method, the appointment will last approximately two hours due to the complexity of this type of service. It is also necessary to visit each week for refills and touch-ups.
High-cost:
Costs can range between $100 to $500 based on your salon's needs and the design you'd like to achieve. Touch-up appointments typically cost less than $100.
Also read: Does Crying make your Eyelashes Longer?
Frequently Ask Questions
Why do clients like them?
They're cheap They last, and an extremely dramatic appearance can be created. They are however not intended to last more than one week (we do not suggest wearing them for more than a week due to how much adhesive is needed).
The user won't feel extension clusters shedding along with the naturally forming eyelash (this is essential to maintain healthy natural lashes while wearing extensions) and thus believes they're a more durable affordable alternative.
How long do eyelash extensions last?
A large amount of glue (we've witnessed instances of extremely strong adhesives being utilized) and contact with the skin could cause a serious immune response in the body. Once it has occurred, the patient is intolerant to the adhesive used for eyelash extensions for the rest of their lives.
Can you swim using eyelash extensions?
It's okay to swim with eyelash extensions once the time allowed to allow the glue time to set has passed. But it is true that at least after 48 hours of swimming, other sports activities will have a greater impact on your lashes. You may require frequent refills.
How to select the appropriate length of lash?
Naturally, most customers would like the longest lashes. However, it is crucial to be aware that the client's condition of the lashes should be the determining factor for the size of an extension.
It is your duty to help your client determine if the lashes are long enough to be natural lashes because they could cause premature fallout of the extensions.
How can I ensure it will last or keep it in good condition?
Do not moisten your eyelashes during at least the initial 24 hours following your procedure to allow the glue to dry. Then, wash your face frequently (that covers your eyelids as well as eyelashes) however, don't touch the eyelashes, if you don't, you'll pull them out.
What can I do to remove it?
Do not ever take off the extensions by yourself. Instead, let professionals manage it. If the set has been in use for more than two months with any repairs. it is advised to take the entire set off and replace it with a new one for reasons of hygiene.
Is it suitable for everyone?
Eyelashes may not be appropriate for all people. If you suffer from an eye problem or have a condition that requires treatment, eyelashes may not be suitable and therefore not suitable for people who do not have eyelashes. Additionally, these require a specific amount of maintenance and care which is why you must consider them prior to acquiring them.
How to use vaseline to remove eyelash extensions?
Make use of a q-tip to apply the vaseline in a tiny amount to the glue using a swiping motion. This will gently dissolve it. Then, guide your eyelashes away. Repeat until you completely dissolve the glue. Rinse your face a second time to eliminate any vaseline residue and moisturize as necessary.
Do not put pressure on your Eyelashes
Avoid eye contact or make use of a machine-driven eyelash curler.  There are a variety of eyelash extensions on the market. The wide variety of options is ideal for creating a look that's distinctive to you. Alongside the various kinds, the techniques of each salon are different. It is possible to use our guide to help prior to asking salons about more details and you'll discover much more when you talk with the Pro.
There is no need to know everything knowing what you prefer will help you begin conversations with a lash specialist. When you're ready, get in touch with a Pro to receive all of your questions answered, understand what to expect, and receive expert advice in choosing the perfect eyelash extensions.
Pro Tips after Getting Lash Extensions
Do not let them get wet for the first 24 hours following the application. This allows the adhesive to fully cure.
Avoid sleeping on your face.
Avoid products that contain oil as they could degrade adhesive. Avoid using chlorine or saltwater.
Cleanse your eyelashes with a foam cleanser every three days.
Do not touch or rub your eyes.
Make sure you clean your eyelashes lightly every morning.
Don't apply mascara on extensions.
Also read: why i stopped eyelash extensions? 
Conclusion:
Different styles of eyelash extensions work plain and easy. They can add volume to almost all eyelashes, meaning you'll wake up with longer and longer lashes, but you'll have to pay for it. Extensions cost money and even if you adhere to all the guidelines with regard to aftercare, however, it's possible that you'll sustain the effects of your natural eyelashes such as breakage and fallout. 
They're necessarily harmful however they're unlikely to create any health issues, and you could consider that the attractiveness of the extensions is more appealing than potential negative side adverse effects (which typically are irritation, infection, and reaction to an allergic condition). If you're considering getting eyelash extensions, make sure they are done by a licensed esthetician to prevent these adverse effects.
Here we discussed the types of eyelash extensions. I hope you enjoyed this article. Also, read this article What is the best way to obtain Perfect Eyebrows?
Hello and welcome to fixingbeauties.com, a website dedicated to beauty and its environment! The blog's purpose is to assist you to figure out what you need in your beauty.